Update: New Dates for 2019 Moncton RV Show
For those planning to exhibit or attend the 2019 Moncton RV Show this March, mark your calendars for a change in dates: Moncton RV Show 2019 will be taking place March 15 – 17, previously scheduled for March 1 – 3.
Participating dealers have been contacted and are excited to make the move. The opportunity to bump the show ahead two weeks in March was appealing to show management and RV dealers for a variety of reasons, and is anticipated to have a positive impact on many aspects of the event.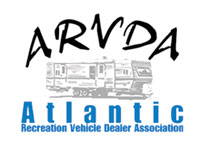 ARVDA is a non-profit organization that is dedicated to the recreation vehicle industry in Atlantic Canada and is associated with the RVDA of Canada.
EXHIBIT IN THE SHOW
This is where New Brunswick RV enthusiasts come to shop! Don't miss the biggest show and sale of the year.
VISIT THE SHOW
Find your road to adventure at the Moncton RV Show. Family-friendly features, show-only pricing, and much more!
DATE & TIME
Friday, March 15
10:00am - 8:00pm
Saturday, March 16
9:00am – 8:00pm
Sunday, March 17
10:00am – 5:00pm
LOCATION
Moncton Coliseum
377 Killam Drive, Moncton, NB E1C 3T1
(506) 857-4100