ABOUT THE SHOW
The Moncton RV Show features more than 70 different lines with close to 150 units on site for you to shop. The show will have something for everyone — Big or small, you'll find the latest models to fit every budget and lifestyle, with hard-tops, hybrids, travel trailers, motorhomes, and so much more!
If you've never been to the show before, this is the year for you to see all the units of your dreams!
This is a unique show with all the major dealers from across Atlantic Canada under one roof.
Dates & Times
Friday, March 9
10:00am – 8:00pm
Saturday, March 10
9:00am – 8:00pm
Sunday, March 11
10:00am – 5:00pm
Admission
Adult - $10.00
Senior - $8.00
Student - $8.00
Weekend Pass - $15.00
Family Pass - $25.00
2018 Exhibitor List
Allmark Steel Buildings
Atlantic Canada Good Sam Club
Atlantic Golf Equipment Services
Bangor / Holden KOA
Bell Canada
Bluegrass Special (Sunday)
Campground Owners Association Nova Scotia
Camper's City, Killam Leisure Living
Canadian Energy
Ceramic Cookware
Comfort Foam & Fibre
CRC RV Centre Ltd.
Danco
Doug's Recreation
Egyptian Comfort
Equity Lifestyle Properties
Fairhaven Memorial Gardens
Fraserway RV
Investors Group Financial Services Inc.
Kampgrounds of America (KOA)
L.J. Patterson Sales & Service
Leisure Time RV Center
Marco Polo Land
Moncton RV Center
Pine Acres (Moncton) Ltd
RBC
Rallye Motors Chrylser
Rallye Motors Nissan
Renovations WESS Renovations
RV Insure
Sackville Auto & RV Ltd
Solution Plastic Repair
Taylor Ford Sales
TD Auto Finance- Recreational Products
The Fudge Ladies
Washer Toss Competition (Saturday)
Work & Play
Wyser Playtek
Xl-96
Show Features
10 Grand In Your Hand!
Buy an RV at the Show and enter for your chance to win $10,000.
Odds are approximately 1 in 100.
NOW is the time to BUY!
Rules & Regulations apply
Washer Toss Tournament
A campground favourite makes its return to the Moncton RV Show!
Think you have what it takes to be Washer Toss Royalty? Show us your skills at The Second Annual Moncton RV Show Washer Toss Tournament! 20 teams will battle in a round-robin elimination competition for their chance to win up to $500 in cash prizes!
When:
March 10th, 2018
First Match 10:00am, Sharp
*Games expected to end at 5:00pm
Where:
Moncton Coliseum Complex
377 Killam Drive, Unit 100
Moncton, New Brunswick
E1C 3T1
Cost: $20 per team at the door
Registration is first come, first serve so act fast! Teams will be notified with details and rules after registration closes.
Huge thank you to our sponsor: Pine Acres RV Moncton Limited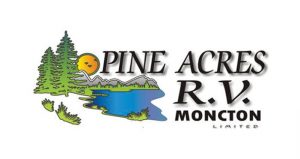 *Please note: Teams who are already registered - an entry fee of $20 will be collected upon arrival, the day of the event.*
Photo Contest
Facebook Photo Contest 
Show us your best times spent with loved ones in the great outdoors! Submit up to 5 photos from this past camping season for a chance to win tickets to the RV Show plus a 2-night stay at Hidden Hilltop Family Campground!
Please post your photos on the Moncton RV Show Facebook page and include the location and the name of the photographer. Entries will be accepted until February 28 and our panel of judges will choose a winner to announce March 1. 
Official Photo Contest Rules & Regulations:
The photo contest is open to residents of New Brunswick, PEI, Nova Scotia.
The submission deadline for photos is 11:59 pm Atlantic Time on February 28, 2018. 
Participants submitting a photo must have permission to use the photo and not be in violation of any copyright laws.
Only entries received through the Moncton RV Show Facebook page will be eligible. A maximum of five entries is allowed per participant.
Master Promotions Ltd. reserves the right to reject any entry in violation of the contest rules or featuring inappropriate, offensive, or illegal material.
By submitting a photo to the contest, participants agree that their photo(s) may be used by the Moncton RV Show in social media.
By submitting a photo to the contest, participants indemnify Facebook, any third party applications, event sponsors, exhibitors, and the event facility, and will not hold them liable in any way for the photo contest administration, operation, contents or results.
This photo contest is in no way sponsored by, endorsed by, administered by, or associated with Facebook.
In the event of any dispute or disagreement regarding selection of the contest winner, Master Promotions Ltd. reserves the right to make the final decision.
There will be one winner and one runner-up. Winners are chosen by a panel of judges based on the following criteria: creativity, content, composition, lighting, sharpness. 
First place receives 2 tickets to the Moncton RV Show and a 2-night stay at the Hidden Hilltop Family Campground. Runner up receives 2 tickets to the Moncton RV Show. Prizes must be accepted as awarded. There will be no prize substitutions.
Winners will be announced on the Moncton RV Show Facebook page on March 1, 2018.
No purchase, expenditure or investment is necessary to enter this contest.