ABOUT THE SHOW
With the recent rise in popularity for the RV and camping industry, now is the opportune time to showcase your products to a targeted audience.
The Moncton RV Show has opportunities for any businesses in the RV industry. With a variety of small and large booth options, and we will work with you to create the perfect setting to showcase your product to thousands of engaged customers each day of the show.
Thousands of attendees at the event include RV owners, prospective buyers, and brand-new customers to the industry.
EXHIBIT PACKAGE & PRICING
UNBEATABLE EXHIBIT VALUE!
Booth packages make your booth look like the leader that you are. Our all-inclusive exhibitor package includes:
• Back & sidewall drapery
• Aisle carpeting
• Booth carpeting (10' x 10' booths only)
• Free exhibitor parking
• Container storage
• Daily booth vacuuming
• Discounted admission passes
• Forklift services to and from your booth (up to 5,000 lbs.) provided that special lifting and moving equipment is not required
PRICING:
• $9.50 sq. ft (Minimum 100 sq. ft.)
• $3.70 sq. ft (Over 2000 sq. ft.)
• $500 per booth (Table Top Display)
Book Space
To fax or email your Space Rental Contract, please click the "Download" button to get a copy of the contract then send it in to us using the information on the form. To fill out the Space Rental Contract online, please click the "Online" button to the right.
2023 EXHIBITOR LIST
Atlantic Used Oil Management Association
A-Liner
Avenger
Bushwacker
Camper's City, Killam Leisure Living
Camping Oceanic
Cedar Creek
Cherokee
Coachmen
COANS
Coleman
Cornwall KOA
CRC RV Centre Ltd.
Cross Roads
Doug's Recreation
East to West
Epicure
Esteem
Ethos
Fairhaven Funeral Home
Flagstaff
Gazebo Expert
Grand Design
Hiedout
InTech RV
Iron Bound Cove RV Park
Jayco
Kampgrounds of America (KOA)
L.J. Patterson Sales & Service
Leisure Days RV Centre Moncton
Leisure Time Sales
Luc Morin Enterprises
NuCamp RV
Off Grid Adventure
Pine Acres (Moncton) Ltd
Pine Acres Hampton
Puma
Retreat by Keystone
Riverstone
Roadtrek
Rockwood
RV World
Sackville Auto & RV Ltd
Salem
Salty DNA
Sandpiper
Sierra
Sportsmen by K-Z
Sunlite Trailers
Taubik Electric Bikes- 2617668 Ontario Ltd
Taylor Ford
TD Auto Finance- Recreational Products
The Billyard Insurance Group
The Fudge Ladies
Travel Lite
Tri-County Ground Search and Rescue
Vibe
Vision
Wayfarer Insurance
Wildcat
Wildwood
Winnebago
Work & Play
Xtreme Outdoors
Zinger by CrossRoads
Date, Time & Location
Thursday, March 7
10:00pm - 8:00pm
Friday, March 8
10:00am - 8:00pm
Saturday, March 9
10:00am – 8:00pm
Sunday, March 10
10:00am – 5:00pm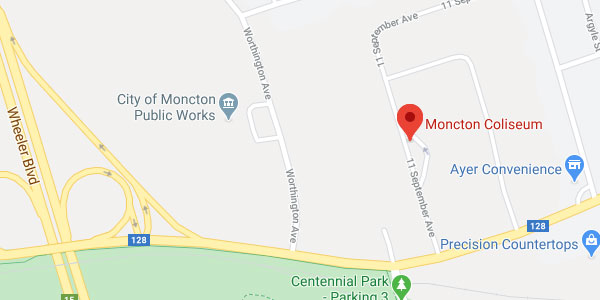 Moncton Coliseum Complex
377 Killam Drive, Unit 100
Moncton, New Brunswick
E1C 3T1
(506) 857-4100